Blog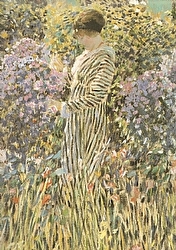 At the beginning of my art career, I spent several years in the studio of Kent Wallis, who introduced me to the fundamental principles of impressionism, changing forever the way I see light and color. He introduced me to Monet's impressionist tradition of seeing and painting the influence of light. The impressionists did not use local color and modeling by values (that is, graduation from light to dark), and instead used broken color-pure, prismatic strokes to convey the vibration of light and atmosphere. Seen at a distance, the eye fuses the separate colors together to convey a remarkably accurate vision of the subject. Instead of black and grey, shadows become filled with color and light.
One of my very favorite artists is Frederick Frieseke, who used broken color to create glorious garden scenes. He was an American, but lived and worked in Giverny for many years. The Frieseke garden was the setting for many of his finest works, providing the brilliant color. He said," My one idea is to reproduce flowers in sunlight....to produce the effects of vibration, completing as I go....If you are looking at a mass of flowers in sunlight out of doors you see a sparkle of spots of different colors, then paint them that way."
Color that expresses the effects of atmosphere can make the most mundane of subjects strikingly beautiful, and turn a garden scene into a feast for the senses.
Comment on or Share this Article >>